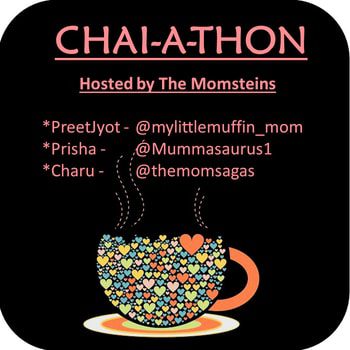 Hosted By :
A LOT CAN HAPPEN OVER A "CHAI KI PYAALI".. Good prompt guys..It l be fun writing about something which means a lot. But before that I would like to thank Dilpreet from https://bhangrababies.com/ for introducing me. Do check out her awesome writeup of our Chai-A-Thon at https://bhangrababies.com/2017/12/15/chai-aur-biscuit/
CHAI… Though I am myself a Chai addict now, but still Chai connects best to my mom and our childhood memories. Her Morning Teas , Me dipping my Parle-G in it and having.
THATS' my very pretty supermom…
Like most of us I am all what my mom is. Though not even 20% of her perfection but still all that i know is her and her efforts. Her little talks over that cup of Tea used to teach me some or the other thing always. A perfect attitude to life.
I used to always wonder how she used to shoo away any stress with CHAI., how she handled any situation after getting charged with CHAI.., how any hunger pangs used to get settled over few sips… myself being her follower used to take few sips too, just to feel that magic what she used to get but always I ended up scratching my head to find my answers coz that tea never gave me the kick she used to get.
I grew out of her protective MAA KA ANCHAL and went hostel for graduation and all. In college it looked COOL to be a coffee addict than TEA, so I adapted that as well..!! And though even coffee never gave me my answers over my moms superpowers after the CHAi Sessions, still I stuck with it for years and years until Migraine forced me to stop consuming coffee anymore.
8 Years back when I stepped in a completely diff phase of my life, it was then I realised how inseparable I was from my MOM.. Every step I used to take, Every Reaction I gave, Every smile I faked was her reflections in me.
With Varun, when I restarted my CHAI affair, It was then I realised what CHAI meant to her, It was then I got my Answers… Chai wasn't the kick she got , It was the mechanism she had build to connect to her Power source. CHAI breaks used to be the time, she needed to bounce back.. Its her strategy to reload her mind with never ending strength. She never backed out from any situation that came her way and that was because she knew exactly how to handle her mind and heart. She always knows and sorts her priorities very clearly.
Me, now being in a phase of life, where truck loads of responsibilities, pint of sacrifices, sprinkle of difficulties and a tons on emotions play around, I feel that connect with mom and her CHAI THERAPY has also reached another level.
Well..!! thats my CHAI story, little but yeah i connect with it well..! I take pride when I see Myself following her strategy, her way of self therapy.
Love you Mom.. I mean every word by heart when I say I have been a follower
You wanna read More Chai Stories.. see here what Khyati Tiwari story is on her personal Blog kgtspassionatepursuits.blogspot.in
Share Yours too in comments.. would love to read
Stay Chirpy and stay tuned